Bioidentical Hormone Replacement Therapy (BHRT)
---
Functional Rejuvenation, MD of Naperville is Your Solution for Optimizing Health —Serving Naperville, Aurora, Chicago, Joliet, Orland Park, Wheaton and all surrounding areas.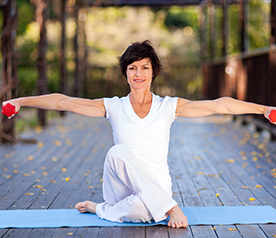 Are you ready to rebuild normal hormonal levels and lessen hormonal imbalance symptoms? If so, contact Medicine With a Heart today. Dr. Michelle Schultz is a highly respected hormone doctor specializing in bioidentical hormone replacement therapy (BHRT). Discover if you are living with elevated testosterone or low testosterone levels, progesterone deficits, or estrogen variations.
If you are grappling with symptoms of aging or more diagnosed disorders such as menopause, thyroid disease, perimenopause, andropause, or adrenal fatigue, Dr. Schultz offers a hormone treatment plan designed exclusively for you.
Bioidentical Hormone Replacement Therapy (BHRT) vs. Conventional Hormone Replacement Therapy (HRT)
First… what are hormones? Hormones are influential chemical messengers in the body. When migrating through the bloodstream to the tissues and organs, hormones influence the operation of mood, sexual performance, metabolism, growth, and development. Even minor changes in natural hormone levels can have substantial outcomes.
When natural hormones become imbalanced – often due to the innate aging process – a multitude of issues can arise from hormonal imbalance. Bioidentical hormone replacement therapy (BHRT) is a tried-and-true effective solution to natural hormone balance.
Conventional hormone replacement therapy (HRT) stems from the science of using synthetic hormones. Synthetic hormones are manufactured chemically- constructed patented hormones. Because these hormones are patented, treatment is alike for all patients and not adapted to their specific needs. Synthetic hormones have also been associated with an increased risk of breast cancer and heart disease.
Alternatively, there is bioidentical hormone replacement therapy. Bioidentical hormones are hormones acquired from plant resources and constructed to have the identical molecular structure as natural hormones formed by the body. This identical structure assures that bioidentical hormones fit into the body's receptors much like a missing puzzle piece, introducing the same practical sequence as endogenous hormones, presenting higher-quality hormone treatment outcomes, and minimizing the risk of side effects.
Opting for a more advanced, natural hormone regimen such as bioidentical hormone replacement therapy (compared with a synthetic hormone replacement therapy), provides patients with an enhanced overall bioidentical hormone experience, along with a smaller range of disagreeable reactions and only mild side effects. Some of the most evident advantages of using bioidentical hormones include:
Improved muscle mass and strength*
Boosted cognitive function*
Enhanced lipid levels*
Strengthened stamina*
Reduction in hot flashes and vaginal dryness*
Reduced risk of osteoporosis*
Restoration of bone strength*
Relief from sleeplessness*
What Causes Hormonal Imbalance?
While in pursuit of optimal hormone levels, natural hormone levels can become imbalanced quickly due to the aging process, toxic contacts, or a health disorder. Bioidentical hormone replacement therapy is a sensible solution for replacing hormones that the body is no longer able to produce on its own.
Bioidentical Hormone Replacement Therapy for Women
Women who have experienced perimenopause, menopause, or post-menopause often discover a myriad of uncomfortable symptoms correlated with hormone imbalance. Throughout these transitions, hormone levels can fluctuate noticeably leading to high testosterone in women (as well as low testosterone in women), estrogen dominance, progesterone insufficiencies, and thyroid symptoms in women can manifest also. Bioidentical hormone replacement therapy can help to reconstruct natural hormone balance and women can look forward to very positive and impressive benefits such as:
Relief from menopausal symptoms*
Decreased hot flashes*
Improved libido*
Boosted brain function*
Reduced risk of osteoporosis*
Enriched skin and muscle tone*
Bioidentical Hormone Replacement Therapy for Men
The symptoms of hormone imbalance in men come to light slowly and are characteristically categorized as signs of aging. The most prevalent type of hormone deficiency is low testosterone in men. Symptoms of low testosterone in men can take place in the form of hair loss, low libido, fatigue, and muscle loss. Signs of low testosterone in men start off around midlife, robbing men of liveliness and worsening health. For the most part, men are affected by drops in testosterone that are a direct result of the aging process, but then again can also experience similar symptoms due to fluctuations in cortisol or thyroid hormones. Bioidentical hormone replacement therapy presents men with an opportunity to mend natural hormone levels and enjoy health and quality of life benefits, including:
Reduced risk of heart disease and stroke*
Enhanced sexual desire*
Increased muscle strength and lean muscle*
Stronger focus and concentration*
Stabilized moods*
Diminished body fat*
Benefits of Bioidentical Hormone Replacement Therapy
Patients report substantial advances in their health and quality of life following bioidentical hormone replacement treatment plans. Bioidentical hormone replacement therapy concentrates on a number of predetermined ailments of aging, such as menopause, andropause, and the complementing signs of hot flashes, night sweats, weight gain, and fatigue. Men and women living with many forms of hormone imbalance like insomnia, weight gain, mood swings, and hair loss, benefit mainly from an all-inclusive treatment plan produced by a hormone doctor specially trained in bioidentical hormone replacement therapy practices.
Pellet Therapy
The most beneficial way to receive bioidentical hormone replacement therapy is via pellet therapy. Bioidentical pellet therapy incorporates implantation of bioidentical hormone pellets into the soft fatty tissue beneath the skin through a minimally invasive, fifteen-minute in-office procedure. Bioidentical hormone pellets are roughly the size of a grain of rice and made of bioidentical testosterone or estrogen with a natural cholesterol binder. Pellets are usually implanted just under the belt line in the upper buttocks. Bioidentical pellets are created with a precise density and firmness, so they dissolve slowly over a 3 to 4-month timeframe. As the bioidentical pellets dissolve, hormones are gradually absorbed into the system in a way that diligently mimics the own body's release of hormones.
Other bioidentical hormone methodologies like hormone creams or pills, cannot match the effectiveness of pellet therapy for managing menopause symptoms, lack of libido, fatigue, and many other symptoms triggered by hormonal imbalance. Although there are many complexities in governing hormone therapy, pellet therapy is the cornerstone of Dr. Schultz's bioidentical hormone replacement therapy practice.
Optimal hormone levels can help:
Improve bone density*
Build lean muscle mass*
Lose weight*
Jump-start your sex drive*
Reduce hot flashes and night sweats*
Improve memory and cognitive function*
Bioidentical testosterone pellets have been used since 1938, and have been proven to be convenient, and provide the body with a solid stream of hormone replacement. Pellets in women normally last 3-4 months; in men, 4-5 months.
Bioidentical Hormone Replacement Therapy at Medicine With a Heart
Dr. Michelle Schultz has helped countless men and women restore their youth, increase their vigor and feel in good health. Because helping her patients attain optimal health is Dr. Schultz's top priority, all patients are thoroughly evaluated with advanced urine hormone testing and a detailed one-on-one consultation to establish the best course of treatment.
A comprehensive hormone plan with Medicine With a Heart may include the most up-to-date medical therapies, like bioidentical hormone replacement therapy and lifestyle changes. Come in contact with what it feels like to live a content and balanced life again! Schedule a consultation with Dr. Michelle Schultz at Medicine With a Heart today!

*The information, including but not limited to, text, graphics, images and other material contained on this website are for informational purposes only. The purpose of this website is to promote broad consumer understanding and knowledge of various health topics. It is not intended to be a substitute for professional medical advice, diagnosis or treatment. Always seek the advice of your physician or other qualified health care provider with any questions you may have regarding a medical condition or treatment and before undertaking a new health care regimen, and never disregard professional medical advice or delay in seeking it because of something you have read on this website. By using our site you agree to our terms. See our Full Disclaimer.